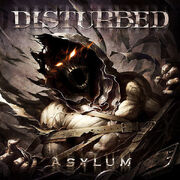 In April, 2010, it was confirmed the fifth Disturbed album will be title, Asylum. Regarding this new album David Draiman stated that the album will be as dark as their previous album, Indestructible, if not darker. Song-writing for the fifth studio album began in late 2009. In an earlier interview with Mike Wengren and John Moyer, it was stated that, judging by Draiman's feelings on the last few years of his life, that Disturbed's new album will be aggressive, angry, and "hard-hitting", but will be similar musically to their album Believe. The band has, at time, "15-18" songs written for the new album. The band began recording new tracks on February 8, 2010. A tentative release date of Summer, 2010, has been set.
Asylum was released on August 31st, 2010 within one week, Asylum sold over 180,000 records reached #1 on 8 lists, including Billboard top 200 making this Disturbed's 4th concecutive #1 album. only 2 other bands have done this in the past, Metallica and the Dave Matthew's Band.
as of July 19th, 2010, Disturbed has confirmed 12 official tracks for Asylum with 4 possible bonus tracks
Remnants (2:43)
Asylum (4:36)
The Infection (4:08)
Warrior (3:24)
Another Way To Die (4:13)
Never Again (3:33)
The Animal (4:13)
Crucified (4:36)
Serpentine (4:09)
My Child (3:18)
Sacrifice (4:00)
Innocence (4:31)
Hidden Track
I still haven't found what I'm looking for (U2 cover) (5:28)

Bonus
Leave it Alone (4:06)
Subcategories
This category has only the following subcategory.