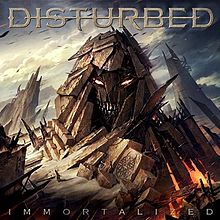 Immortalized is the sixth studio album by American heavy metal band Disturbed. The album was released on August 21, 2015 through Reprise Records, and is Disturbed's first studio album since Asylum (2010), marking the longest gap between two studio albums in their career. It is also Disturbed's first album since 2002's Believe to receive a Parental Advisory sticker, although studio albums released in the interim have contained some profanity.
The album, which sold 98,000 copies in its first week, is Disturbed's fifth consecutive number-one debut on the United States Billboard 200 chart. They are the third band in history to achieve this feat, the others being Metallica and Dave Matthews Band.
Tracklist
Edit
1. "The Eye of the Storm" (Prelude) 1:20
2. "Immortalized" 4:17
3. "The Vengeful One" 4:12
4. "Open Your Eyes" 3:57
5. "The Light" 4:16
6. "What Are You Waiting For" 4:03
7. "You're Mine" 4:55
8. "Who" 4:46
9. "Save Our Last Goodbye" 4:59
10. "Fire It Up" 4:05
11. "The Sound of Silence" (Simon & Garfunkel cover) 4:08
12. "Never Wrong" 3:33
13. "Who Taught You How to Hate"
Ad blocker interference detected!
Wikia is a free-to-use site that makes money from advertising. We have a modified experience for viewers using ad blockers

Wikia is not accessible if you've made further modifications. Remove the custom ad blocker rule(s) and the page will load as expected.