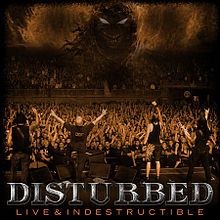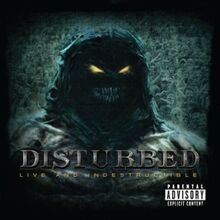 Live & Indestructible is an extended play by the American rock band Disturbed. It was released on September 30, 2008, exclusively through iTunes Store, and then on October 7, 2008, it was available on other online retailers. It features three live tracks, from Disturbed's first online concert at Deep Rock Drive. It also features the music video for Indestructible's third official single and title track, "Indestructible". The EP was also sold at Hot Topic stores exclusively in compact disc format, featuring an alternative cover. That version features an extra song, "Stupify", and lacks the music video for "Indestructible".
Tracklist
Edit
---
1. Inside the Fire (Live From Deep Rock Drive) 3:51
---
2. Stricken (Live From Deep Rock Drive) 4:05
---
3. The Game (Live From Deep Rock Drive) 3:50
---
4. Indestructible (Video Version; iTunes Exclusive) 4:30
---
Compact Disc
Edit
---
1. "Inside the Fire" 3:53
---
2. "The Game" 3:52
---
3. "Stupify" 4:11
---
4. "Stricken" 4:06
---
Ad blocker interference detected!
Wikia is a free-to-use site that makes money from advertising. We have a modified experience for viewers using ad blockers

Wikia is not accessible if you've made further modifications. Remove the custom ad blocker rule(s) and the page will load as expected.